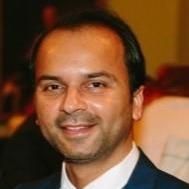 Manish Pancholi
General Manager - Transport and Infrastructure
,
Downer Group
Australia
Manish is a Strategic and a Visionary Leader with a proven track record in Planning, Project and Operational management of major infrastructure projects and business with complete performance accountability.
A qualified civil engineer with Masters in Structural Engineering and MBA, Manish has built his career and reputation on leading and successfully completing challenging landmark Civil, Rail, Bridges, Water, Road transport and Infrastructure Projects and Programs.
He has demonstrated expertise in development and implementation of strategic business vision keeping value propositions for the customers and business both at the core. By optimisation of existing offerings, strategic geographical expansion and creating new offerings in line with the customer needs to result in a sustainable business growth improved capabilities with several business units.
Manish has led the team to develop and implement a project management office to set and maintain standards for project management across the business. Implementation of efficient project systems and streamlining of processes ensured that projects and Programs are completed safely, within budget and ahead of time and in line with the stakeholder expectations. He has developed positive relationships with councils, Transport and Infrastructure authorities, department of planning and other stakeholders.
Key to Manish's success has been his thought leadership to enable people, systems, strategies and leadership creating a culture of collective Human and Operational excellence.
He has demonstrated the ability to lead multi-disciplined teams to solve complex technical and commercial challenges in order to ensure that organisations remain relevant, sustainable and vibrant in an ever increasingly competitive environment.
He has learnt and shared the art of better operational learning by forming learning teams, engaging with the team and driving collective improvements.